Re-blogging here an entry from the Kirkus blog by editor Myra Forsberg, entitled "Legal Eagles"!
"Through the ages, the works of playwrights, novelists, and filmmakers, from Shakespeare to Steven Spielberg, have gleefully skewered lawyers. In Spielberg's Jurassic Park, the first movie in the popular franchise, a discerning dinosaur chomps on a particularly sleazy attorney, delighting fans worldwide. But depictions of heroic lawyers also remain plentiful, particularly on TV, in classic series (Perry Mason) and more recent fare (The Good Wife).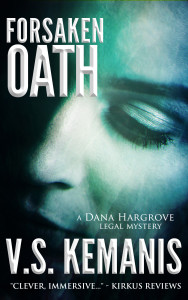 "Kirkus recently reviewed three legal thrillers that focus on resourceful attorneys pursuing justice. In V.S. Kemanis' Forsaken Oath, Manhattan prosecutor Dana Hargrove finds herself embroiled in three cases, including the murder of a fashion designer. In this page-turner, she must uncover the truth and save her career. "The author manages to compellingly depict many distinct areas of the justice system, from the cops on the street to the lawyers on both sides of the courtroom," our reviewer writes. Jerri Blair's Black and White, set in 1979,follows Florida public defender J.T. Lockman, who takes the case of an African-American accused of murdering a white car dealer. J.T. believes a Ku Klux Klansman committed the crime but must gather the evidence to prove it. Our critic calls the novel an "energetic tale that's rife with drama and mystery." A sinister figure kidnaps teenage girls in Brian Clary's Amicus Curiae: the daughter of Texas attorney Michelle "Mickey" Grant disappears and the police soon arrest Willie Lee Flynn for one abductee's murder. Although he's convicted, Mickey harbors doubts and files an amicus curiae brief, seeking to retry Flynn and discover her daughter's whereabouts. Our reviewer says, "Fans of crime dramas will find Clary's suspenseful yarn a welcome addition to the genre."
__________________________________
Stay tuned for the third installment of Legal Eagles! I'm currently reading a great legal thriller by attorney Manuel Ramos, soon to be reviewed.