On a dismal, drizzly afternoon in Manhattan, an array of editors, authors, artists, and crime fiction aficionados jammed a large meeting room at the Butler Library to celebrate the 75th Anniversary of Ellery Queen's Mystery Magazine.  Appropriate to the occasion were several surprise visits from beyond the grave (an eerie, other-worldly screeching from the HVAC system), and a chilling reading by Joyce Carol Oates from her story "Big Momma," a creepy tale from The Doll-Master and Other Tales of Terror.  Shivers!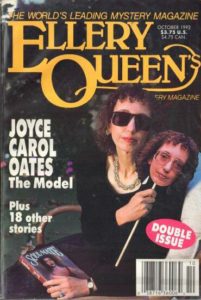 In a publishing environment where magazines and journals of short fiction easily come and go, EQMM can be proud of its longevity. The secret (or mystery) of this success was one of the topics explored during the afternoon of panel discussions by notable authors and editors.  Some shared fascinating personal experiences about working with the founders of the magazine, the cousins Frederic Dannay and Manfred B. Lee, who collaborated as Ellery Queen. The distinguished panelists included Otto Penzler (proprietor of The Mysterious Bookshop and founder of The Mysterious Press), Sarah Weinman (author, editor, and expert on women crime fiction writers), Jeffrey Marks (biographer of Anthony Boucher, at work on a biography of Dannay and Lee), Russell Atwood (f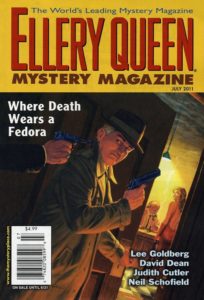 ormer managing editor of EQMM), and award-winning authors Jonathan Santlofer, Joseph Goodrich, Josh Pachter, and Charles Ardai.
Especially fun was the slide show of several EQMM covers from different eras of the magazine, along with interior black-and-white illustrations of the stories. Janet Salter Rosenberg, the daughter of cover designer George Salter, gave insight into her father's creations. Artists Laurie Harden and Tom Roberts discussed their respective works and their appreciation of the artistic freedom EQMM affords them in bringing their visions of the stories to life. Here is an evocative cover by Roberts from the July 2011 issue. The cover for the very first issue, and a clever story about it by Arthur Vidro, can be found on the EQMM blog, Something is Going to Happen, posted on August 31.
The symposium was capped by our trip up to the sixth floor, enticed by the promise of a glass of wine and (the real inducement) an exhibit of EQMM artifacts displayed in a small alcove of the rare book and manuscript library. Of particular interest to me were the yellowing pages of manuscripts, typed out on an old Remington or some such, with Dannay's edits marked in pencil. Those of you who know of my life as an editor will guess at my delight in seeing Dannay's flourishes and variances of the universal copyediting symbols and his spot-on word choices!  The exhibit is on display through December 23.
Why has EQMM endured?  The panelists and current editor Janet Hutchings agreed on a few key ingredients: a commitment to quality and a wide variety of stories of different styles within the mystery genre.  Wait a minute:  I'm going to ban that word "genre"!  It's thrown around far too often and stirs up preconceptions that limit a reader's horizons.  As an author who resists a pigeonhole for her own work, I would do the same for EQMM, unless you take the most expansive view of the term "mystery" as an essential element of compelling writing.  As stated on EQMM's website, when founders Dannay and Lee were "deciding how to orie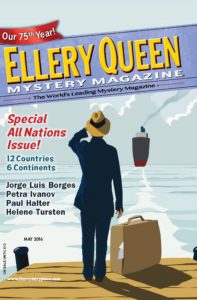 nt their new magazine, there could not have been any question that its outlook would be global. Both men had cosmopolitan tastes and a knowledge of world literature. It has become part of EQMM lore that Dannay, who soon took over the editing of the magazine, aimed to prove, in its pages, that every great writer in history had written at least one story that could be considered a mystery."
Jeffrey Marks notes in his essay in the September/October issue that EQMM has published such literary luminaries as William Faulkner, Jorge Luis Borges, Mark Twain, and E.M. Forster, as well as several Pulitzer winners.  This year, in the May issue, we were treated to a reprint of Borges' iconic story exploring alternate realities, "The Garden of Forking Paths," which was originally published in EQMM in 1948.
Another masterpiece, Stanley Ellin's "The Specialty of the House," is reprinted in the current issue. Beyond these prize reprints, the range of writing that appears monthly in EQMM's pages includes something for everyone, whether light or dark, police procedural or private eye, cozy or locked room. My taste runs to stories of psychological suspense and intellectual challenge, and I can always find them here. Janet Hutchings has maintained Dannay and Lee's expansive vision for the magazine and the tradition of high quality. I'm grateful that my own writing, which bears absolutely no resemblance to Agatha Christie's, has been printed in two issues of EQMM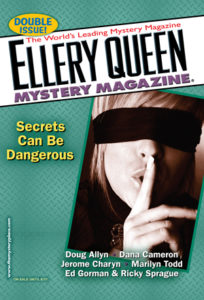 and its e-book anthology, The Crooked Road Volume 3.  I'm also fortunate to have been welcomed into this community of amazing authors. As one of the panelists noted, mystery and crime writers are a really nice bunch of people because we've transferred every bit of aggression and nastiness to our fictional characters!
*     *     *
Slightly off-topic, on the subject of anniversaries, I note here that October 26 marks a milestone for me.  A year ago, the print editions of my first two novels, Thursday's List and Homicide Chart, were released.  To help celebrate, I'm running giveaways for signed copies of the two novels on Goodreads.  Be sure to enter for a chance to win!